Sports Massage in Hayes, Bromley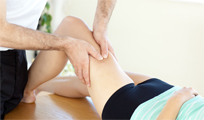 Whether you are a keen amateur or an experienced professional athlete we can help you. We treat the full age range, from school children to the 'mature' sports person.
Our osteopaths have helped professional footballers, tennis players, gymnasts, dancers and golfers recover from debilitating injury.
Common injuries we can help you with:
Achilles tendonitis
Tennis elbow
Golfers elbow
Ankle sprain
Knee ligament strain
Pulled muscle, e.g. calf or hamstring
Back or neck joint strain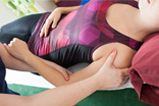 How do we help you get better?
We use osteopathic massage techniques to ease muscle spasm, improve blood flow and reduce inflammation, all essential to the healing process. Andreas commonly uses laser therapy as well and we may use acupuncture. Both these speed up the rate of tissue healing.