Corrective and Holistic Exercise Therapy in Hayes, Bromley
What is Corrective Exercise?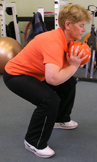 Corrective exercise is personally tailored to bring your body into balance, eliminating long-term and recurrent pain problems. It bridges the gaps between rehab, fitness and performance and can take you beyond treatment and initial rehabilitation, improving your physical condition for day to day life or sport.
Detailed assessment and a highly prescriptive exercise programme make a corrective exercise programme very effective. I measure your flexibility, core control and movement ability in relation to your goals and then design an exercise programme which includes exactly the exercises you need to change your body long term. There are two key elements: pre-stretching or mobilising tight areas and then strengthening weak areas. These two elements together create a change in the muscle balance of your body; improve your posture and developing your physical potential.
What will I have to do?
If you are motivated and interested in being proactive in taking care of your body a corrective exercise programme is perfect for you. You will need to make time to do some exercise regularly and learn the exercises for yourself. You need not spend hours and hours exercising as your programme is highly personal and so very effective. I will coach you through the exercises in stages so you know what to do.
I use simple tools that you can use at home: Swiss balls, light dumb bells, and foam rollers. For those who are already a member of a gym I can also recommend conditioning exercises using the free weight equipment in gyms too, when you are ready for this kind of loading.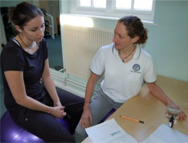 Benefits
Understanding your body and its needs better is one of the biggest benefits of a corrective exercise programme. This can leave you feeling more empowered and in control, and less frightened of moving and exercising for fear of doing something 'wrong' that might cause pain.
Contact/further details
07775 881366
www.jomcrae.co.uk
Emergency Service

Got an emergency? Get in touch right away and get the help you need!
Emergency