Reflexology in Hayes, Bromley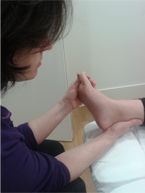 Much more than a luxurious foot massage, Reflexology activates the healing power of the body. This gentle therapy encourages the body to restore and maintain its natural healthy balance.
Reflexology is a natural, holistic therapy, using only human therapeutic touch to produce results. Using acupressure techniques, the therapist locates reflex points on the feet or hands which correspond to the organs and structures of the body. It seeks to detect and relax tensions and encourages the free flow of energy to enable the body to heal itself and maintain a healthy balance.
Reflexology does not diagnose or cure specific illnesses but, because of the relaxing nature of the treatment, it has been found to be beneficial in many stress related conditions.
Reflexology may aid:
Stress related conditions
Sleep disorders
Back pain
Hormonal imbalances
Tension
New reflexologist just joined Strawberry House Clinic - Jane Altree
Is reflexology suitable for me?
Reflexology is a therapy which can be received by anyone at any age, from infants to those receiving end of life care. Many people use reflexology as a way of relaxing the mind and body and counteracting stress. It helps us cope on a physical, mental and emotional level.