Andreas Jochim (Osteopath)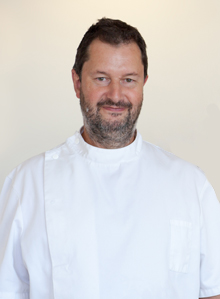 I have been interested in health from an early age and initially went down the conventional route, studying medicine at Newcastle university. However, after 3 years of study I decided this was not for me. I left the course and worked as a musician, playing keyboards in a successful club band. After a spell at this I wanted to return to the field of health and looked into various types of complementary health care. I chose to train as an osteopath and qualified in 1990. I set up in practice, initially from my parent's home in Beckenham, and some local health and fitness centres. In 1995 I helped set up a complementary health department at Lewisham hospital, SE London. This was a ground breaking project and pretty unique in the UK, offering osteopathy, homeopathy and acupuncture on the NHS. Sadly the department was closed 3 years later.
Strawberry House Clinic
In 2010 my wife and I established our lovely new clinic having taken over the Woolwich Building Society building. We had the premises refurbished throughout, to produce what must be one of the nicest and most professional clinics of its kind.
Here is a summary of my Osteopathic career and additional training I have undertaken.
I trained at the British School of Osteopathy, widely regarded as one of the premier osteopathic training establishments in the world. I obtained the D.O. (Diploma in Osteopathy) in 1990.
In 1995 I undertook further training in Cranial Osteopathy at the BSO.
I gained a Masters Degree (MSc) in Complementary Therapy Studies at the University of Westminster in 2004.
In 2010 I did an intensive course in Medical Acupuncture under Dr Anthony Campbell, a former consultant at the Royal London Hospital for Integrated Medicine.
I am registered with the General Osteopathic Council and am a member of the British Osteopathic Association and the Sutherland Cranial Society.
I have been a lecturer at the European School of Osteopathy in Maidstone, Kent.
I am a firm advocate of CPD (continuing professional development) and regularly attend courses to update my skills and keep abreast of current developments in the world of Osteopathy.
A day in the life of an osteopath is never boring! Whether it's treating babies using cranial osteopathy, helping pregnant women with back pain, easing the symptoms of arthritis in the elderly or helping an athlete recover from a sports injury, the variety is exciting, sometimes challenging and usually very rewarding as people improve and feel better.
Treatable Conditions

We offer effective help with the following conditions;
Back and neck pain
Sciatica
Sports injuries
Shoulder problems
Tension headaches
Also cranial osteopathy for babies