Osteopathy in Hayes, Bromley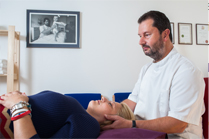 Osteopathy is an established, recognised system of diagnosis and treatment that lays its main emphasis on the structural integrity of the body. It is distinctive in the fact that it recognises much of the pain and disability we suffer stems from abnormalities in the function of the body structure as well as damage caused to it by disease. Osteopaths have a holistic approach and believe that your whole body will work well if your body is in good structural balance.
We use a wide range of techniques, including massage, cranial techniques (sometimes referred to as 'cranial osteopathy') and joint mobilisation and this breadth of approach allows us to focus on every patient's precise needs. Osteopaths assess and treat people of any age from the elderly to the new-born and from pregnant women to sports people.
Osteopathy can treat:
Joint pains
Acute & chronic back pain
Sciatica
Mechanical neck pain
Tension Headache
Migraine
Shoulder pain (including Frozen shoulder)
Elbow pain (including tennis elbow; lateral epicondylitis)
Golfer's elbow
Sports injuries
Arthritic pain
Neuralgia
Rheumatic pain
Fibromyalgia
Pain of ME and Chronic Fatigue Syndrome
Generalised aches and pains
Digestion problems
Circulatory problems
Cramp
Lumbago
Muscle spasms
Inability to relax
However, patients have found Osteopathy helpful for many other conditions. If you want to find out more, your Osteopath will be happy to talk to you.
Your Medical History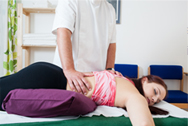 Before we start to treat you, we will make a full medical assessment. We take time to listen to you and ask questions to make sure we understand your medical history and your day-to-day routine. We'll ask you about things like diet, exercise and what is happening in your life, as these may give clues to help our diagnosis.
We may feel your pulse and check your reflexes. We may also take your blood pressure and refer you for clinical tests, such as x-rays, if we think you need them.
Your Posture
We usually look at your posture and how you move your body. We may also assess what happens when we move it for you and see what hurts, where and when.
Trouble Areas
Using touch, we may also find the areas which are sensitive or tight and this helps us to identify what's going on. When we have done this, we can diagnose your condition. We may sometimes feel that osteopathy is not appropriate for you and refer you to your GP or another specialist.
Your treatment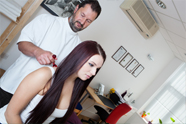 Osteopaths use a wide range of gentle manipulations, depending on your age, fitness and diagnosis. Treatment is different for every patient but may include techniques such as different types of soft tissue massage and joint mobilisation to release tension, stretch muscles, help relieve pain and mobilise your joints. We may discuss exercises that you can do to improve your posture and movement in your workplace and everyday life.
Osteopathy Emergency Service

Got an emergency? Get in touch right away and get the help you need!
Emergency