Jonathan Hares (Chiropodist/Podiatrist)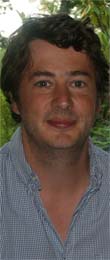 "Jonathan has been treating my feet for several years now and I rely on him to keep them in top condition. He is always professional but makes you feel at ease instantly and is full of useful suggestions regarding foot care. I can thoroughly recommend him - in fact I have, to most of my friends and family!"
Jonathan qualified in 1996 from University of Brighton with Bsc Hons in podiatry.
He worked within the National Health Service for the 1st half of his career, having gained experience with general podiatry along with paediatric care and diabetic outpatient services.
He then spent 4 years working for Boots Footcare before setting up Foot Revival Ltd. He offers private podiatry to the highest standards and continually maintains his professional development as recommended with the Society of Chiropodists and Healthcare Professions Council.
A podiatry visit to Jonathan is so much more than just routine nail cutting, hard skin and corn removal. We aim to rid you of your problem and at the same time pamper your feet back to good health by starting with a rejuvenating foot bath and round things off with a moisturising foot massage.
For further information see www.footrevival.co.uk