Laser Therapy in Hayes, Bromley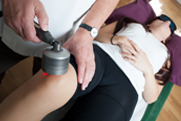 I often use a combination of Low Level Laser Therapy and osteopathy for fast and effective treatment of sports injuries.
Laser therapy treatment uses very low powered laser light applied over the injured area. It is not a painful treatment, in fact usually one feels nothing at all, at most a slight tingle. It is very safe, virtually without side effects. Laser is widely used for sports injuries in Scandinavia, Europe and the USA. It works by reducing inflammation and improving blood flow. The following well known names have used laser therapy to recover from sports injuries; David Beckham, Michael Owen and Padraig Harrington. It is used by the British Olympic Team.

Laser can help heal soft tissue injuries (i.e. tendonitis, strains, sprains, bursitis); chronic and acute joint and cartilage conditions (i.e. rheumatoid arthritis, osteoarthritis, psoriatic arthritis, tendon injuries, ligament injuries, knee pain); chronic pain (i.e. post herpetic neuralgia, neck pain, migraine, myogenic/tension headache, back pain, trigeminal neuralgia, brachial neuralgia, carpal tunnel syndrome, frozen shoulder, plantar fasciitis) and small bone fractures (i.e. laser therapy can have a positive influence on bone regeneration).
Please e-mail or talk to me on the telephone about your problem and I will advise whether I can help you.
Osteopathy Emergency Service

Got an emergency? Get in touch right away and get the help you need!
Emergency