Facial Acupuncture Enhancement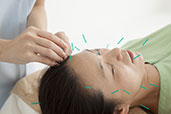 Over the last twenty years the beauty tide seems to have shifted away from the 'frozen face' look to a softer more natural appearance.
In addition, there have been questions over the long-term effects of Botox. Studies have shown that it is theoretically possible for the injected botulinum toxin to travel from the face to other parts of the body causing as yet unknown effects.
In the light of all this, other more natural methods of enhancing appearance are gaining popularity. One of these is facial acupuncture. This procedure involves placing a number of very fine needles in the face. Numbers involved can be anything from around 10 to over 50.
So how does it work?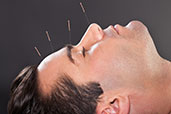 By boosting collagen and elastin (two things help keep skin looking young), increasing circulation and proper lymph flow and clearing congestion. It also has a major stress relieving effect and stress is frequently manifested in appearance as a very tired looking face.
So the benefits are a face that is more radiant, toned, less tense looking with reduced lines around the eyes and mouth. A recent Chinese study of 300 people having facial acupuncture found there were noticeable improvements after just one session.
What to expect.
The first session, which is up to 1 hour, consists of a general health questionnaire followed by discussion of what you wish to gain from this treatment and how you would like your 'look' to be improved. We then discuss the acupuncture procedure, what it might feel like, the number of sessions that are needed, answering any questions you may have. And putting you at ease as much as possible before we begin treatment.
The treatment.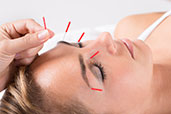 You will be seated comfortably on the couch, and a small number of needles will be inserted into your face, usually between 6 and 12 for the first treatment. The needles I use are Korean 7mm needles. These are incredibly fine, about a tenth of a millimetre in width (a small sewing needle is more than 4 times the diameter of one of these).
The needles are left in place for around half an hour after which they are removed. You'll probably feel quite relaxed and maybe a little light headed after the treatment. You should take it easy for an hour or so afterwards.
For best results a number of sessions are needed; people usually see a difference after three to five sessions. Ten sessions over a few months gives the best results.
Does it hurt?
For many needle insertions there is virtually no sensation felt; in fact, I've had patients in whom I have inserted 5 or 6 needles say, "so when are you going to start?" For some needles, a slight 'pinching' sensation may be felt, which usually subsides within about 10 seconds.
Patient Testimonial
 'At first, I was quite nervous about having acupuncture in my face as I'm not very good with needles. But Andreas was very reassuring and made me feel comfortable. I had to answer some questions about my health and Andreas told me that at any time I found the treatment uncomfortable to say and he will stop. Andreas did warn me that one of the side effects could be bruising. But I never had this.   
Andreas asked me if there was anything in particular I was unhappy with. I am a terrible frowner and have frown lines and crow's feet. As I frown a lot I do get tension headaches.  
 I wouldn't say the treatment is completely pain free but it's not terrible and there was no time I wanted it to stop.
 After 3 weeks of treatment I went out for my friend's birthday. I hadn't told my friends too much about the treatment as I wanted to see if anyone noticed a change in my face. They couldn't believe my face. They thought I had some kind of cosmetic procedure. It was nice to get such a response as I had thought to myself my face looked more relaxed.
 I am not someone who naturally relaxes, and I did think to myself how am I going to relax with so many needles in my face. But surprisingly I found it really relaxing and I cherished my half hour lying on the couch.
 By the end of the treatments I thought my face looked more relaxed and there was an improvement in my frown lines. My headaches also reduced. So, all in all it's a great treatment to have and I would definitely carry on having it done.'
Sam Mckale
Andreas's Training
In 2017 I did an intensive training course at the Yuan Traditional Medicine College in Colliers Wood, London under world renowned acupuncturist, John Tindall. This involved supervised training, case studies and a final examination. I am fully insured to give facial enhancement acupuncture.