Podiatry/Chiropody in Hayes, Bromley
Foot Revival Treatments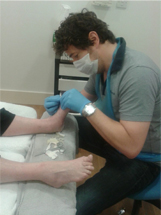 General Information
The Foot Revival treatment is, quite frankly, what it says on the tin, the rejuvination of your feet. The consultation starts off with an uplifting footbath and, if you are a new patient or diabetic, a detailed assessment of your feet will follow. The treatment required will be concluded with a moisturising foot massage. Then entire treatment will last about 30 minutes.
Treatment includes:
Nail Cutting
Corn and Hard Skin Removal
Foot Health Advice and Education
Athlete's Foot
Biomechanical assesment
General Information
If your feet ache whilst or after walking or perhaps first thing out of bed, then you definitely need a biomechanical assessment. Ignoring these symptoms can lead to, if not already, ankle, knee, hip and lower-back pain.
What To Expect
The assessment consists of testing muscle strength, joint range of motion, gait analysis and the angular relationship between your feet, ankles, legs, knees, hips, spine and shoulders. Resolution often requires exercises and a prescribed insole.
Nail surgery
General Information
The entire procedure is carried out within 1 hour under Local Anaesthetic. The offending aspect of the nail is removed and a chemical is applied to prevent re-growth. A series of re-dressing appointments will also be included to ensure you recover and heal fully from the operation.
What conditions benefit from nail surgery?
Ingrown toenails
Deformed nails
Thick and painful nails
Diabetic footcare
General Information
Diabetes can affect your feet in a number of ways and may lead to unwanted complications, so it is important you come and see us every 6 months for full diabetic check.
What Can Go Wrong?
Partial or complete loss of sensation in your feet
Pain
Reduced blood flow
Ulcers
and more
Verrucaes
General Information
Verrucaes are simply warts caused by the human papillomavirus (HPV), and we generally get them around the toes or soles of your feet. Verrucae infection can resolve itself using your body's immune system, however treatment is advised to reduce symptoms and the possibility of cross-infection.
Treatment includes:
Topical Acid Application
Cryotherapy